MailMigra for Pegasus - PMAIL Converter program!
NOT able to find any option to Export Email from Pegasus?
Well because there is no in-built option, to Export Pegasus Mail you need MailMigra for Pegasus.
If you are looking for a way to get the Pegasus email in some other email client, then you sought to trust MailMigra for Pegasus which let you convert PMAIL messages into other popular platforms such as – Microsoft Outlook, Windows 7 Mail [Windows Live Mail], Berkeley, Vista Mail [Windows Mail], Mac Mail [Apple Mail], Entourage, Outlook Express, etc. As Pegasus saves its email in .pmm, you cannot open the emails in any other application so conversion is more of a necessity.
If we explain in other words, then with PMAIL Converter or Pegasus Mail Converter you can export Pegasus to PST [For Outlook] and Pegasus to EML [For Live Mail, Vista Mail, OE, Berkeley, Apple Mail, etc].
How it Benefits you:
You get to convert Pegasus .pmm emails in PST & EML format
It has batch conversion facility which saves your time
End result is absolutely accurate
Available for a low price, just $49 for its license edition
Convert PMAIL to Outlook and EML real quickly !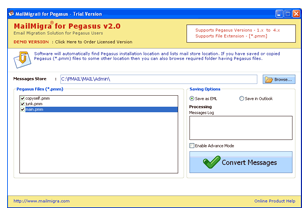 MailMigra for Pegasus has been created keeping in mind all requirements of users, it suitable for doing large scale as well as small scale conversion. It does not matter from which sector you are from; anyone can use this software to convert Pegasus Mail to Outlook/EML.
Our tool provides you 100% guaranteed conversion with all email elements and details. There is zero possibility of data loss & damage with the tool.
Take a Test-Drive for FREE
We provide Pegasus Converter in DEMO edition. Reason for launching this edition of the software is that you can have advance knowledge of the software's working and also know how exactly it does .pmm conversion.

Demo Converts upto 5 emails only !
Convert Pegasus to Outlook & other email clients with all elements !
MailMigra for Pegasus does .pmm files conversion with all email properties
Metadata - Sender & Recipient email id's, send & receive date/ time stamp, subject, etc
Formatting – content, language, hyperlinks, font-family, etc
Attachment files & format of any format
Features List – MailMigra for Pegasus
Well-guided interface
PMAIL Converter has an easy to understand interface, it's more like a wizard which guides you through the conversion process. Steps to export Pegasus to EML or PST>>
Converts .pmm files
Pegasus do not have import/export option, with this tool you can very easily convert .PMM message into MS Outlook & EML format.
Detects & Selects .pmm files
You do not have to know or find the .pmm files location, it's such an smart utility that it automatically detects & select PMM files for conversion.
Export Pegasus Mail to PST & EML format
This one is an amazing option which you get with this tool. You will have two choices for conversion; you can Convert Incredimail to PST [For Outlook] and Pegasus to EML [For Live Mail, Vista Mail, OE, Berkeley, Apple Mail, etc].
Maintains the actual Folder hierarchy
Utility maintains the exact folder structure or hierarchy after converting Pegasus Mail to Outlook.
Export Email from Pegasus in bulk
Batch or Bulk Pegasus .pmm files conversion into PST and EML is possible with this program.
All Outlook edition are supported
If you are migrating Pegasus Mail to PST then you can open the emails in Outlook 2013, 2011, 2007, 2000, 2010 [32 bit only]
If you want to slick and efficient PMAIL conversion then you need MailMigra for Pegasus for the job. Use its Trial Mode for one free software ride; if you are satisfy with its result then Buy License Edition for the cost of 49 USD only.