If you are trying to migrate from your incredimail e-mail client to Windows Mail client and getting into trouble then you need to change your way.You need to use Incredimail to Windows Mail Converter.The software helps you in many ways for eg. It will helps you to decrease your time load by the feature of Group mode conversion and also if you are a new user and are not familiar to how to use the software then you need not to worry because the software is designed with a user friendly interface which helps you at every step.
The IncrediMail to Vista Mail converter helps you to migrate unlimited IncrediMail files into EML file format of Windows Mail at once. The program will automatically location IMM or IML files from IncrediMail 2.0, 2.5. The program will save all emails data as it is, during the migration process.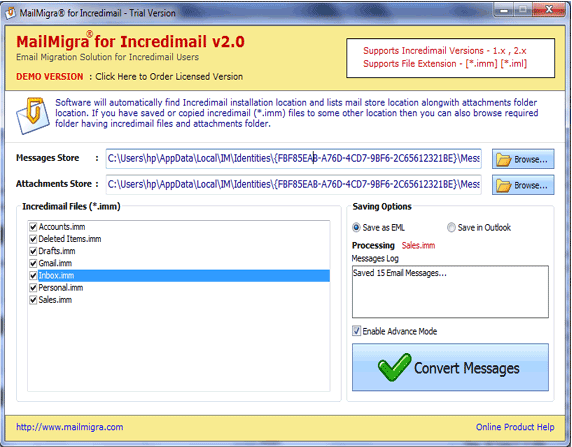 Trial Edition for Evaluating the Efficiency
You can use IncrediMail to Windows Mail absolutely free for checking the quality of software for 10 IncrediMail files only. For complete edition buy licensed edition.
Special Features of Incredimail to Windows Mail Converter:-
Converts the whole .imm files into Windows Mail in one go by using batch conversion mode.
The Incredimail to Windows Mail converter helps you to constant preservation of any sort of data that you had in your previous E-Mail client.
Exporting of message became an easy task because it will automatically locate the .imm files in your system.
Support of User guided interface.
Compatible with all the version of Windows Operating System like Windows xp,Window Vista,Windows 7 etc.
Capability in Auto locate IncrediMail Files for migration easily.